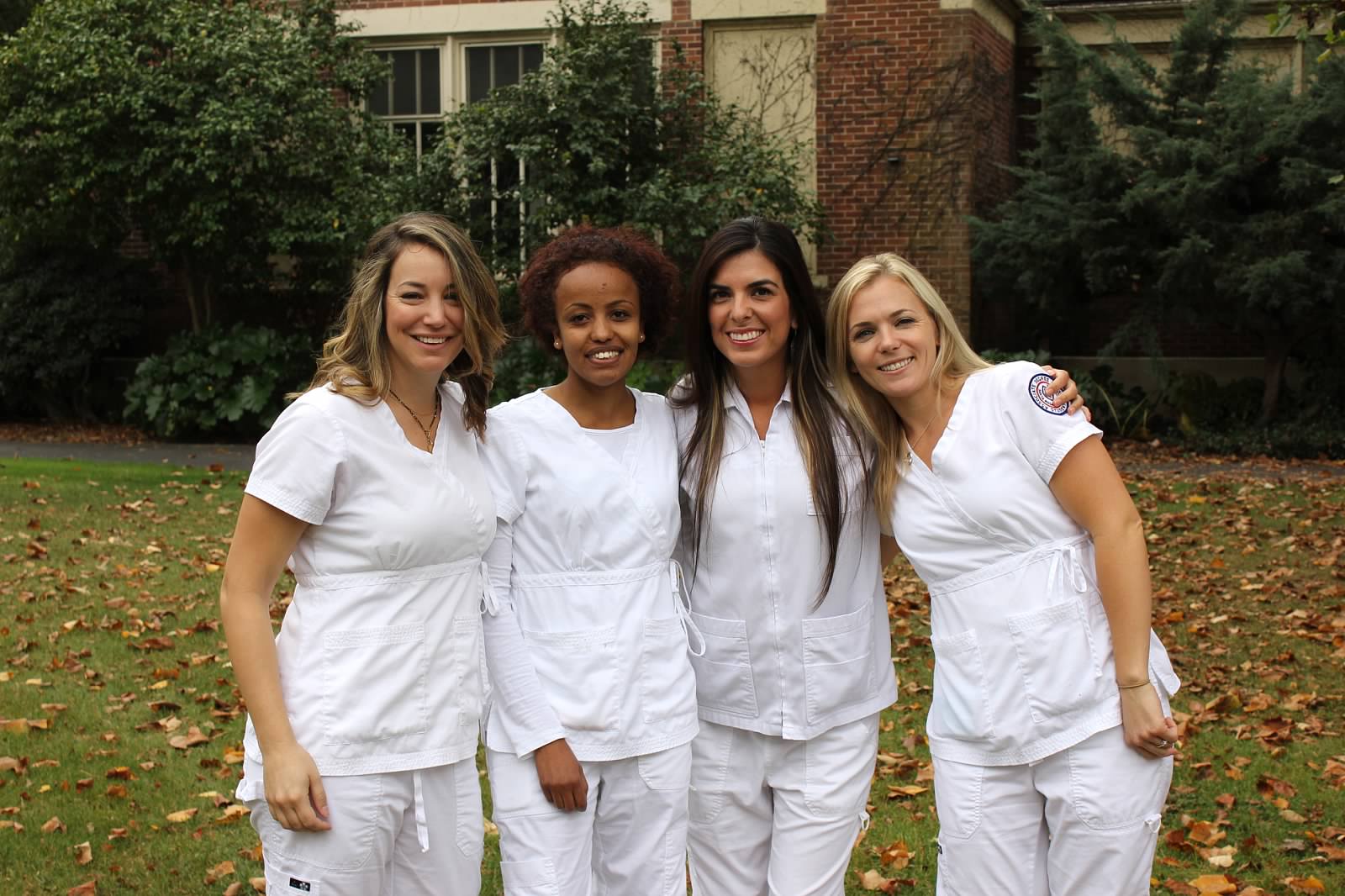 In order to be admitted to the Associate Degree in Nursing program students must complete an application during the annual application period. Students must complete both a Santa Rosa Junior College admission application and a separate application to the nursing program. Please carefully read the application for the ADN program. Students interested in applying for the ADN program should also read the Frequently Asked Questions and plan to attend a pre-nursing workshop.  For information about dates and times for the pre-nursing workshop can be obtained by visiting the Counseling Department. Please carefully read the information on our webpage, including the FAQS, before emailing questions to department staff.
Deadlines
Program applications are available beginning October 2nd of each year; please do not use an application from before that date to apply in the current application cycle. The complete application packet is due to Health Sciences Department no later 5:00 pm PST on the due date printed on the application, February 7th. The Health Sciences Department must receive all official transcripts, COVID documentation, and TEAS testing (if available) with the application. Incomplete applications will not be accepted. The Health Sciences Admissions and Records Technician can look up SRJC fall grades, if needed.
General Qualifications
Students on academic probation or progress probation are not eligible for admission. Please contact the counseling department for advisement if you have questions.
A cleared criminal background, and screening, and a cleared drug test must be completed by the ADN Program's approved agency and received prior to acceptance into the ADN program. These fees are paid by applicant and transfers of information from other schools is not accepted. Information on how to obtain these clearances is given to accepted applicants. In addition, ADN graduates are required to clear another background screen including fingerprinting prior to taking the NCLEX-RN state board exam.
Candidates for admission must submit required vaccinations and health exam by a physician or nurse practitioner attesting to sound physical and mental health and ability to provide hands on client care prior to admission (see Technical Standards page). Full COVID vaccination is required for admission. These are clinical agency requirements. These fees are paid by applicant. Information on how to obtain these health clearances and record them with Certified Background Inc. are given to accepted applicants.
Candidates must have a willingness and desire to care for people from diverse backgrounds.
Nursing students must be committed to adhering to the American Nurses Association Code of Ethics for Nurses available at http://www.nursingworld.org/codeofethics.
Ability to understand spoken and written English at college level and to express oneself verbally in English is required.
Math computation skills are required for medication administration. Students are strongly advised to have a good command of basic algebra and mathematics to safely calculate medication doses. A medication calculation and safety exam must be passed each semester in every nursing course. 
Nursing students must have the ability to use a computer and internet, word processing, scanning of documents and uploading to a website, viewing and printing of Adobe and PowerPoint presentations, e-mail skills to include sending attachments and access to computer, printer and internet.
Complete Prerequisites
There are mandatory prerequisites that must be completed before applying to the program. Prerequisites must meet the required semester unit value for application.  See Major section for details. NOTE:  Online science prerequisite courses are NOT accepted and will not qualify current applicants for admission to the Associate Degree Nursing program.  
Counseling
All prospective nursing students are advised to see a counselor for educational planning. For guidance on Counseling hours and locations please see the Counseling Department home page.
Transcripts
The completion and documentation of all prerequisite coursework is required with the application for admission. Sealed, unopened official college transcripts from non-SRJC institutions or copies of unofficial SRJC transcripts must accompany the application for admission. "In Progress" grades WILL NOT be accepted.
NOTE:  The ADN admissions specialist does not evaluate transcripts or prerequisites prior to receiving completed applications, this is a function of the main SRJC Counseling Department.
Program Selection Process
Eligibility to enter the Nursing Program is determined by the Chancellor's Formula which is a composite score calculated by (a) overall degree applicable college GPA in the last five years, (b) the most recent letter grade for English 1A or its equivalent, (c) core science (anatomy, physiology, and microbiology) GPA, and (d) core science repetition. Course repetition is defined as repeating a course within five years prior to the fall semester of the application cycle due to a previous grade of "A-F", NC, No Pass, or "W". 

(Note: The core science classes and English 1A course must be completed with a letter grade of "C" or higher before the application screening period closes in order to enter scores into the formula.)

The above formula will determine a probability of success score for each student. All students who have a composite score of 80% or higher will be eligible for the program. If there are more eligible students than seats in the program, a random computerized selection process (lottery) will be used to determine admissions placement in the program. Eligible applicants who have met the minimum composite score, are selected by lottery number and  with a submitted TEAS score of 62% or better will be provisionally accepted into the program, or placed on an alternate list. The alternate list is not kept from year to year. Students not accepted must reapply each year.
ATI TEAS TEST
In addition to completion of course prerequisites, all provisionally accepted applicants must meet eligibility requirements for admission including completion of a current version of the ATI TEAS exam with a score of 62% or higher.  It is suggested that students prepare seriously for TEAS testing.  For the Fall 2024/Spring 2025 application cycle submission of the copy of the official TEAS testing score is not required with the application, but strongly recommended, as the TEAS score will be required to be submitted with provisional acceptance if selected by the lottery.  For this application cycle:
If TEAS has been taken, an unofficial copy of the first TEAS test taken should be submitted with the application;

For this next 2024-2025 cycle, the earliest score we will accept is the first TEAS taken after October 2, 2022. There must be 6 months between TEAS testing taken to remediate scores below 62%.
Students who achieve a probability of success score of 80% but submit a TEAS score of less than 62% with their application will still be included in the lottery, however if selected will not be eligible for provisional admission until remediation is completed and a score of 62% or better is achieved with the next TEAS taken. Remediation must be completed per the offered contract terms.

Students who do not submit a TEAS score with their application but qualify for the lottery and are selected for provisional admission MUST submit a copy of their official TEAS score with their Provisional Admissions Acceptance form by the acceptance deadline stated in the provisional Admissions Packet.  If the TEAS score is not submitted with the acceptance, the student will not receive provisional admission.
More information about the test, books and practice tests are available at www.atitesting.com. 
Acceptance Notification
Notification of acceptance, alternate status or denial of acceptance will occur by June 15th following the application deadline. Please do not inquire about enrollment decisions prior to this date. Notification will occur via e-mail; therefore it is important that candidates report any change in email to the Health Sciences office. With the e-mail notice, the student will be provided with information that must be completed as a part of the provisional acceptance process: health requirements, CPR certification, background screening, and drug testing. 
All applicants must ensure that a current email address, telephone number and mailing address are on file with the ADN Program to receive the e-mail notification and to meet the specified deadlines in the notification email for accepted and alternate status applicants. Failure to meet program deadlines on time will result in the position going to the next qualified alternate on the list.
This is the link for the Admission Application:
Application for Fall 2024/Spring 2025 Semesters (download and print)